THUNDERBOLT SKYWAY
THUNDERBOLT SKYWAY roboticises the operation of THUNDERBOLT Hammers to vastly improve knock-in speed and safety – consistently, repeatably, sustainably.
Contact an agent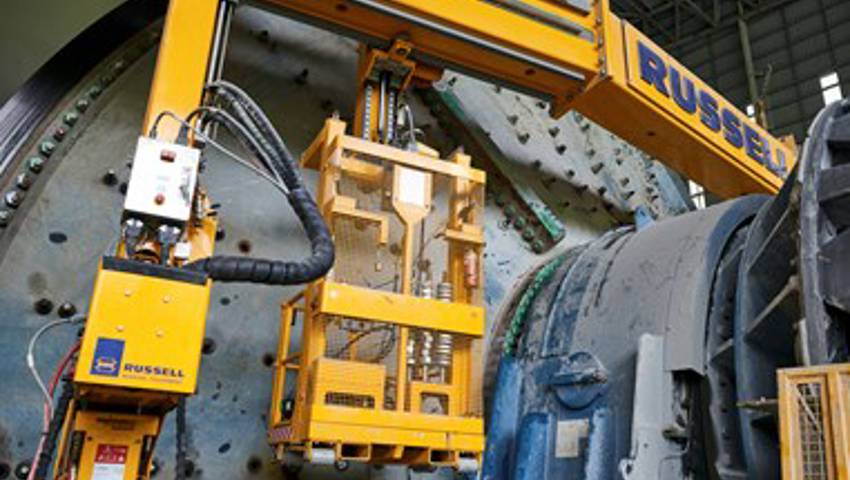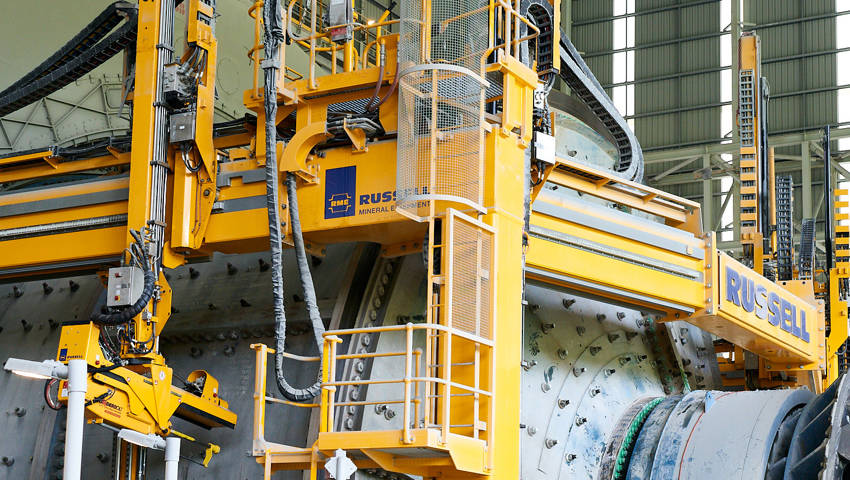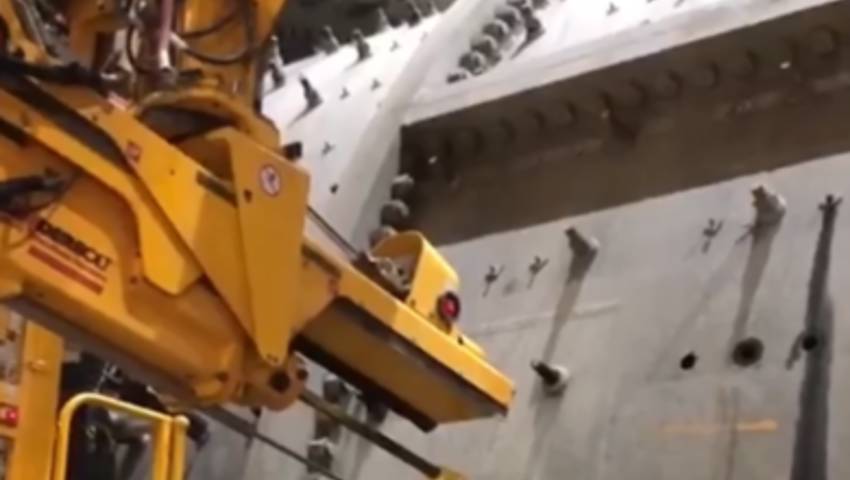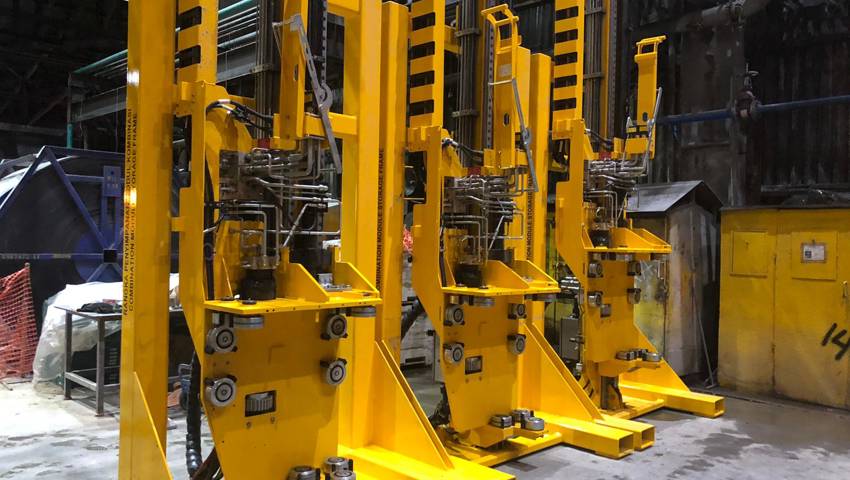 Introducing THUNDERBOLT SKYWAY (SKYWAY) from RME's Advanced Technology suite, a revolutionary robotics technology that redefines worn liner removal.
SKYWAY is a purpose-built gantry system around the mill's exterior that enables semi-automated suspension, travel, and firing system for THUNDERBOLT Recoilless Hammers, and supports safe operator platform modules for reline crews.
SKYWAY streamlines the knock-in phase of mill relining by eliminating performance variability inherent in manual hammer operation, resulting in faster, more consistent bolt-to-bolt knock-ins and predictable mill relining times.
Beyond efficiency, it prioritises safety, reducing risks for personnel working outside the mill and offering ergonomic access to more liner bolts, which reduces the frequency of time-consuming inching cycles.
Elevate safety and achieve the fastest-ever knock-in times with THUNDERBOLT SKYWAY.
BENEFITS
Safety – removes crew from danger zones such as working near suspended loads during knock-in of liner bolts
Speed – automated movement of THUNDERBOLT Recoilless Hammers accelerates worn liner activities and reduces knock-in duration
Predictability – automation provides accurate robotic hammer-to-bolt alignment, pre-loading and faster movement between bolts, eliminating performance variability associated with manual operation
Mill availability – enables faster, safer relines providing greater mill availability, increasing productivity and reducing shut down times
Industry proven – operational at multiple mine sites in Central America and Indonesia since 2020
ADDITIONAL INFORMATION
Custom-made, multi-axis gantry system constructed around the exterior of the grinding mill
Safety excellence achieved utilising emergency stops, alarms, access ladders, mobile platform gates, guard rails and counter balance valves 
Ease of operation with hydraulic control of THUNDERBOLT Recoilless Hammers for ultimate speed and accuracy
Ergonomically-designed remote joystick control pendants offering mobile control of SKYWAY's mast, carriage, hammer and mobile platforms as well as combination hammer / elevating platform modules
Touchscreen technology for on-the-spot / instant statistics around machine operations and performance
Extendable, high-reach ability for hammer operation ensuring consistent liner bolt removal speed
Five-axis THUNDERBOLT Recoilless Hammer motion
Load capacity range of 400 - 800kg to ensure equal performance across the entire relining process
Hammers have integrated cooling to increase operational duty cycle
Platforms provide convenient tooling and fastener storage to keep platform floor clear
Platforms accommodate for oiled air for relining tools and water for removing debris
Platforms include relining tool jibs to reduce reliner fatigue

THUNDERBOLT SKYWAY is intended for use as a purpose-built semi-automated suspension and guidance system for THUNDERBOLT Recoilless Hammers and RUSSELL Elevating Platform modules – solutions which accelerate worn liner removal activities and improve crew safety.
SKYWAY will be favoured by progressive mine sites with larger capacity mills and potential mine life longevity. It demonstrates compelling safety benefits for high-altitude mine sites due to the personnel fatigue management advantages they afford.
SKYWAY is particularly well-suited to greenfield projects where plant design for efficient mill maintenance and high availability can be achieved. RME offers MILL RELINE DIRECTOR (MRD) Plant Design studies to support these applications, ensuring that any constraints to efficient mill maintenance are eliminated from the outset.
THUNDERBOLT SKYWAY's automation capabilities facilitate significant reductions in the time required to knock-in bolts and liners compared to conventional methods. Detailed MILL RELINE DIRECTOR (MRD) studies on SAG mill relines using THUNDERBOLT SKYWAY have demonstrated that bolt knock-in can be performed significantly faster, and save many reline hours compared to conventional methods.
Moreover, in addition to increasing bolt knock-in speed, THUNDERBOLT SKYWAY improves consistency. Even skilled human operators have a high degree of performance variability across individual reline activities. This variability contributes to unpredictability. SKYWAY overcomes these problems with efficient and optimal travel paths for the hammer as it moves from bolt-to-bolt. MRD modelling indicates that the standard deviation for the automated knock-in is nearly half the equivalent value compared to conventional methods.
MILL RELINE DIRECTOR Safety (MRDS) studies have also proven that THUNDERBOLT SKYWAY will reduce person-hour exposure to risk by over 40%. SKYWAY eliminates the need to manually handle and manoeuvre liner removal tools around the mill deck where personnel are exposed to hazards such as suspended loads, slips, trips and falls. Instead, an operator pilots the liner removal tool using a sophisticated remote control from the safety of an operator pod.
RME is the world's leading Original Equipment Manufacturer (OEM) of mill relining systems.
RUSSELL MRMs engineered, manufactured and delivered.
THUNDERBOLT Recoiless Hammers sold.
Mine sites served by RME equipment & services.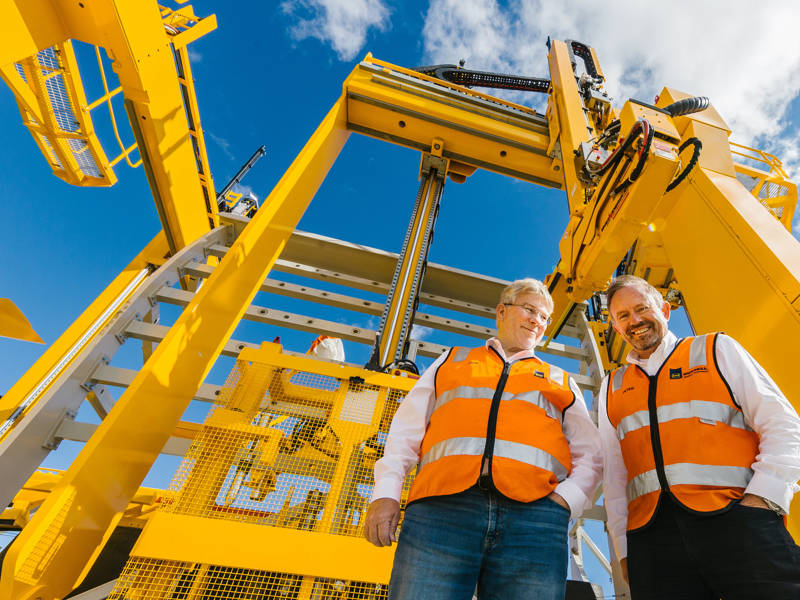 Choose your advanced knock-in solution
| Benefits | THUNDERBOLT Elevating Platforms | THUNDERBOLT SKYPORT | THUNDERBOLT SKYWAY |
| --- | --- | --- | --- |
| Portability between mills | Crane portable | Crane portable | Fixed |
| Mill size | 24 ft and up | 28 ft and up | 36 ft and up |
| THUNDERBOLT integration | Hammer / Power Pack / Jibs | Hammer / Power Pack | Hammer / Power Pack |
| THUNDERBOLT automation | No. Guided suspension | Semi-automated | Semi-automated |
| Work platform operable when hammer in use | Yes | No. Due to autonomous hammer modules. | Yes. Work platforms are independent of autonomous hammer modules. |
| Integrated arm for tool suspension | Optional | Optional | Standard |
| Liner bolt reach | Up to 6 rows | Up to 6 rows | Up to 6 rows |
| Suitable for gearless mill drive (GMD) servicing | Yes | Yes | Yes |
| Plant installation method | Anchor points | Anchor points | Fixed foundations |
| Electrical safety interlocks | On handrails | On handrails | On work platform modules |
| Safety uplift | Ergonomically safer worn liner bolt removal and new liner bolt securing. | Semi-automated hammer operation removes crew from hazardous zones. | Semi-automated hammer operation removes crew from hazardous zones and enables safe concurrent crew and knock-in operations. |